One of the easiest ways to create security parameters around your house is Window Alarm Sensors. It is a security device that alerts the business owner or homeowner that someone is trying to enter their property. The device is attached to the Windowpane or frame and triggers when someone tries to open or break the window.
You may find different forms of window alarm sensor which detect when someone opens the window or break its glass as it senses the breaking sound. There are both wireless and wired window alarm sensors that can be installed.
These Window alarm sensors effectively detect burglars and offer added security to your property. Even with this small device, you will know when a door is ajar, or a window is open. These sensors become quite handy as it helps in ensuring that the kids are safe in their room at night.
However, a person may come across so many remarkable products or alarm sensors, which makes it difficult to choose the one. But with the help of this guide, you might get a better idea. So, let's begin!
Best Window Alarm Sensors
Tolvivion Wi-Fi Door Alarm System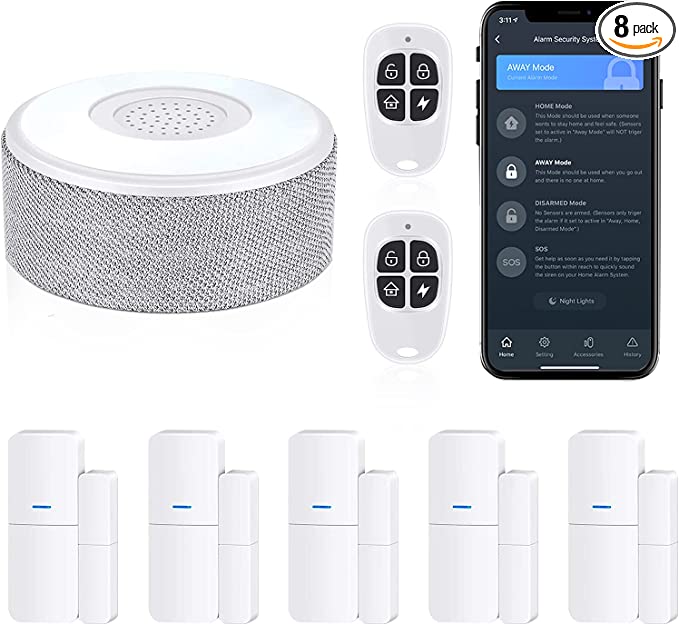 One of the smartest ways to protect your house is with the Tolvivion smart option, which will be a smart alarm system and an affordable option for you. It will give full control over the alarms for home security via smartphone and gives you instant notification of alarm alerts in the apartment or house.
The user can add some extra windows and door sensors, wireless doorbells, and water detectors in different rooms. It also supports the expansion of about 20 sensors and five remote keypads or controls. Moreover, setting up Tolvision is so simple that it does not damage the walls and comes with a backup battery, which will work for about 8 hours.
It even has voice control which can be controlled easily by Disarm, home modes with your voice. The device has a Wi-Fi connection that does not support 5GHz Wi-Fi networks.
Pros
Install easily
You can even customize the sensor
It comes with a smart alarm system
Control from anywhere
Cons
It does not work for a long time
AINOORA Glass Break Sensor 4 Pack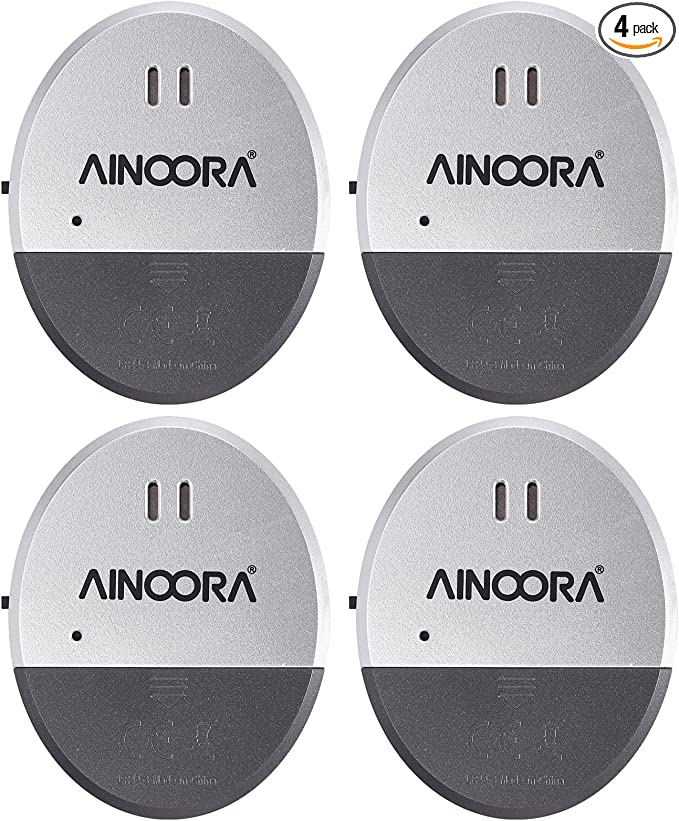 An easy-to-use, reasonably priced security option is provided by the AINOORA Glass Break alarm for doors and windows to guard you and your family against home invasions. If the alarm senses a physical vibration or glass breaking, it will sound up to 130 dB loud and light an LED. Thanks to the 24-hour door or window security alarm, you feel more at ease, especially at night.
In addition to beds, hotels, garages, flats, dorm rooms, shops, offices, warehouses, RVs, doors, windows, balconies, sliding glass doors, and more, AINOORA's glass break sensor is the ideal indoor home security solution. It even has working indicators and low battery warnings, which will flash for about 5 seconds after you turn on the alarm. You can easily check the battery life with a low battery indicator.
Pros
Sound about 130db continuously for 30 seconds
It comes with a working indication
Easy installation
Ultra slim design
Cons
Sensors are not accurate
As compared to other options, it is less practical
KERRLOTTE Door Alarm Sensors with App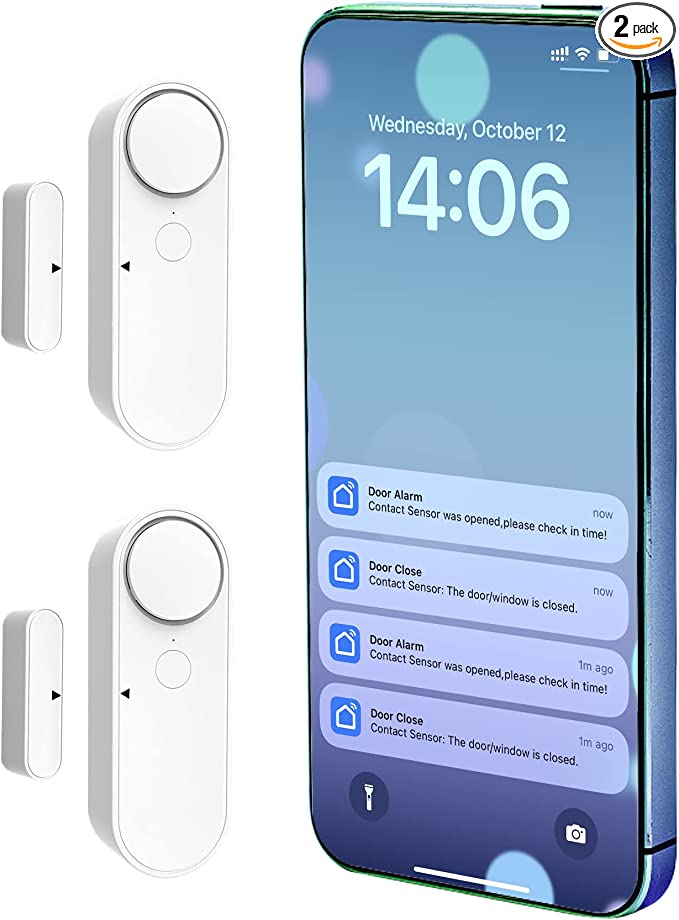 KERRLOTTE Door Alarm Sensors are designed to be installed easily as it is lightweight with auto-trigger features. With the help of the Tuya application, you can easily add and name several sensors for different types of offices and shops and receive notifications all in one place. This device will help save time and offer extra peace of mind.
Thanks to the sensors' flawless integration with both services, you may easily ask Alexa or Google Assistant about the state of your doors and windows. Using the linkage scene function, you can even turn on lights to keep your home safe and discourage stealing when a thief arrives.
This sensor can be used for different scenarios, including windows, gates, drawers, and pet doors. It even has a long battery which will work for about 12 months, and you will get low battery alerts when it is time to replace it.
Pros
Hands-free voice control as it supports Google/Alexa assistant
Get easily installed
Multi-user and sharing
Cons
Toeeson 120 Db Door Window Alarm

Toeeson 120 Db Window Alarm is the one that has a magnetic sensor window door alarm that is loud enough that it creates enough to detect the entry and prevent babies or pets from going out of the house. It is an excellent device that will protect your office or house. It protects your house or workspace, whether you are in or out.
Plus, installing this door or window alarm is so simple and easy, which will be possible through adhesive or tape on the door or window. You do not require any wiring or screws as it is completely DIY. It also has a low battery indicator that will give an idea about when to change the battery. Moreover, its ultra-slim design makes it easy to adjust and makes it perfect for your house, office, store, garage, or even RV.
It is made using premium material, which makes it the perfect option or product. You can attach the device to all types of doors, and even great for the window. It will start an alarm even if there is a crank which will prevent burglars.
Pros
Quite easy to use
Get attached to different types of doors or windows
Offer you added security options
Cons
Too loud for everyday use
It works sometimes and sometimes does not
Hiistar Personal Security Window & Door Alarm Bell

The Hiistar Personal Security Window/Door Alarm's 120-decibel sounds provide a simple, cost-effective security solution to protect you, your family, and your possessions against home intrusions. These sirens are deafening enough to deter a possible intruder from breaking in through your windows or doors.
Using the alarm couldn't be easier. The window/door alarms look contemporary and include easy-to-reach buttons and basic controls. No matter your level of technological knowledge, using a Hiistar security gadget is simple.
For even more home security, the Hiistar personal security alarm also comes with two separate window/door alarms, each with a built-in 120-decibel alarm. It only takes a few seconds to secure the alarm to any window or door in your house with the accompanying double-sided tape. There are no wires needed for installation.
Pros
100% new and is a high-quality product
Super suitable and stability
Super loud
Cons
GE Personal Security Window and Door Alarm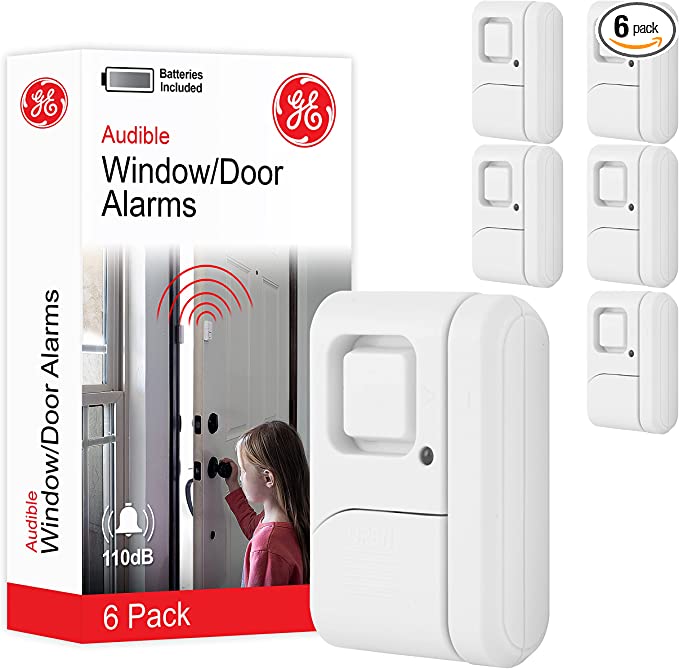 GE personal security window and door alarm is proof that you do not have to spend much money to get what is best! The alarms have peel-and-stick pads, which means there will be an easy install, and the best part is these sensors are way louder.
Each GE sensor comes with the batteries, which are pre-installed in it, and all you need to do is aligned the sensors on the door and then start testing. There will be a small switch on the sides of every sensor that turns the unit on or off, and also select the Alarm or Chime. It has a nice sounding doorbell sound which can be heard so easily. It has been claimed by the manufacturer that the alarm is 120 decibels.
It is the perfect option which you can have. It is not only affordable, for also with its ear-splitting alarm, but it may also scare off intruders.
Pros
Have a very loud sound
Quite easy to install
Have a Chiming sound which is optional
Cons
Does not sync with the Wi-Fi or any other device
How To Choose the Best Door and Window Alarms?
While selecting the door or window alarm system for your house or office, it becomes essential to look for different factors or features to choose the right option.
Installation
Also, installing the sensors is one of the most important things to consider. A person needs to make sure that the installation is hassle-free and simple to install with a magnet, adhesive, or screw.
Remote Control
When a user can access the security system from anywhere in the house, that will offer a level of security and confidence. The user will receive an alert on the smartphone, that will allow the users to respond immediately whenever there is a situation. 
You can receive an alert on the smartphone that will give you access to respond immediately in that situation. Unlike other systems, you should not choose the one where a person learns about the broken glass when they reach a blaring alarm. But till that time, intruders have already left.
Integration
It is crucial to ensure that smart technology is integrated into the best windows and door sensors that link to the monitored security system. One can also receive notifications from a smartphone that will give you access to the unlocked points. It will give an idea about the person in your house using this camera technology that will be linked to home security.
Pet Protection
The main purpose of pet security is to monitor anime activities through the camera and allow the owner to interact with the pet using real-time voice control. When you use these systems, like pet security, you must compromise with the treat dispenser, outdoor monitor sensor, and other things.
But when you get an alarm that functions the way standard windows and alarms do, it may emit usually and is enough to frighten the animal. The windows and door alarms are designed to frighten intruders and pets.
Camera Access
A simple window contact sensor alarm will offer security measures, but a camera will provide added protection. The security camera will allow users to see and record the tape inside or outside the house.
Security cameras may also have internal memory allowing you to upload the video to a website or an application that gives the user access to the live feeds from the smartphone. Some camera-type alarms sound, such as a siren that frightens the intruder away
Conclusion
Every door or window sensor alarm has its features and benefits for the users. It offers peace of mind to the user when they use it. But one must be sure about their choice and avoid making any mistakes. It is a matter of safety, so you must look over different features and not just the price.
People Also Ask

Is it essential to have a sensor on every door and window?

Whether a person requires the sensors on every door and window in their house will depend on the alarm type, there are some detectors for glass break, and motion sensors often cover different access points. However, other options detect pressure or vibration from one single point. But you must ensure the security alarm is available on the vulnerable spot in your house.

How does these door and window sensor work?

Some windows and doors may also use magnets that activate the tiny red switch when you close. If the magnet moves out of range or the switch moves out of alignment, the sensor will send you a sound or an alert.


When you install a magnetic sensor incorrectly, then it may cause false alarms and reduce reliability. That is why you should keep both pieces of sensor level and within range of each other while installing.

How to change battery in window alarm sensor?

To change the battery, you need to take the cover off of the sensor and then remove the old battery and insert the new one.

How to disable window alarm sensors?

A window sensor can be disabled temporarily by bypassing the associated zone. If you will delete the sensor then it will disable it permanently.

How to install window alarm sensors?

There are different ways to install the window alarm sensor which will be based on the surface area and also the brand. You can check the instruction and then install it accordingly.